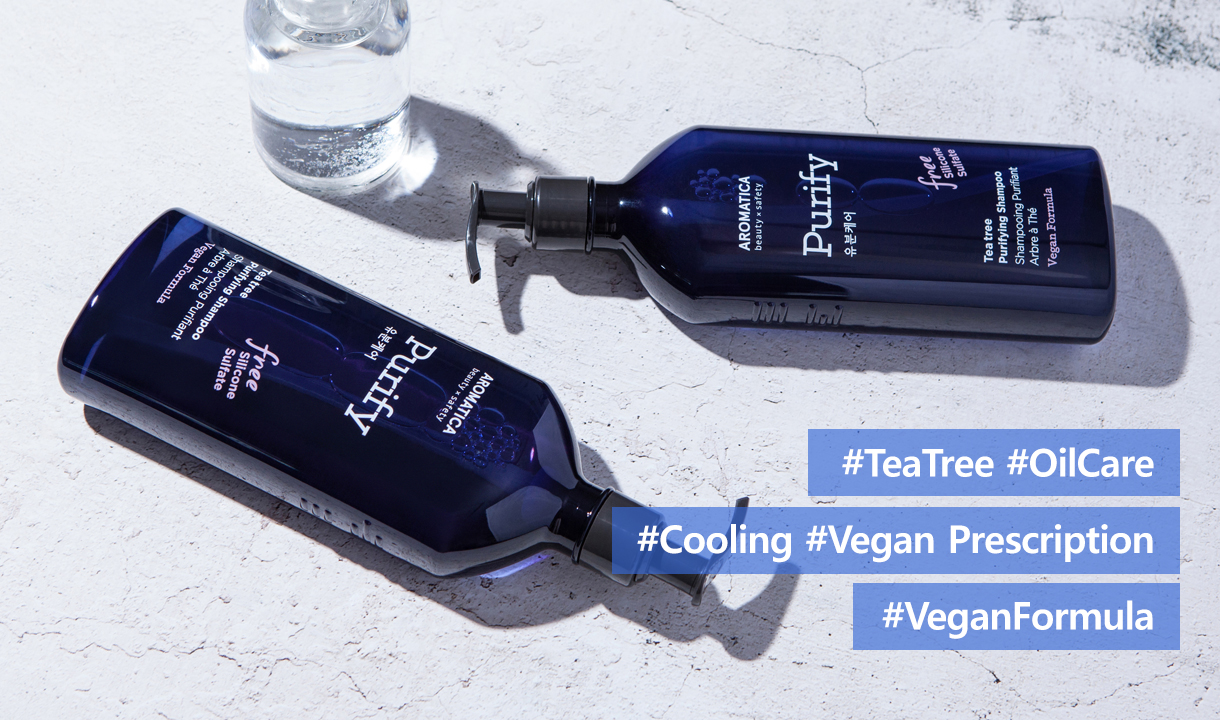 For days when the scalp feels heavy and stuffy due to excess sebum or days when you lack confidence due to hair that begins to clump by afternoon, tea tree oil, biotin, and panthenol have been added to a silicon-free formula that reduces the pressure on your scalp and hair for a conditioner that provides a light and healthy gentleness.
A Silicon-free conditioner that keeps the scalp and hair feeling light!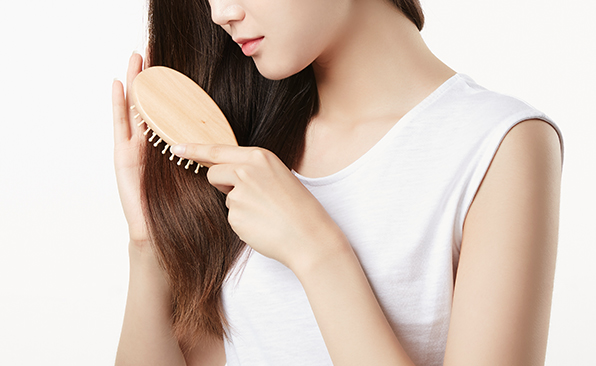 General rinse and conditioner products on the market are based mainly on silicon oils such as dimethicone or Cyclopentasiloxane, which make the hair temporarily "look smooth".  If silicon oil covers the scalp, it blocks the supply of nutrients necessary for scalp breathing and hair growth, or sticks onto the hair and flattens it. Tea Tree Purifying Conditioner uses ester oil extracted from the fatty acids of coconut oil in place of heavy silicon oil, making it safe even when it reaches the scalp. 
The rich fatty acids of ester oil help to supply nutrients to each strand of hair and provide fundamental care for smooth and healthy hair. For scalp and hair health that can be easily overlooked, begin care now with this silicon-free conditioner!
93% naturally derived ingredients! Botanical energy that awakens the fatigued scalp and hair!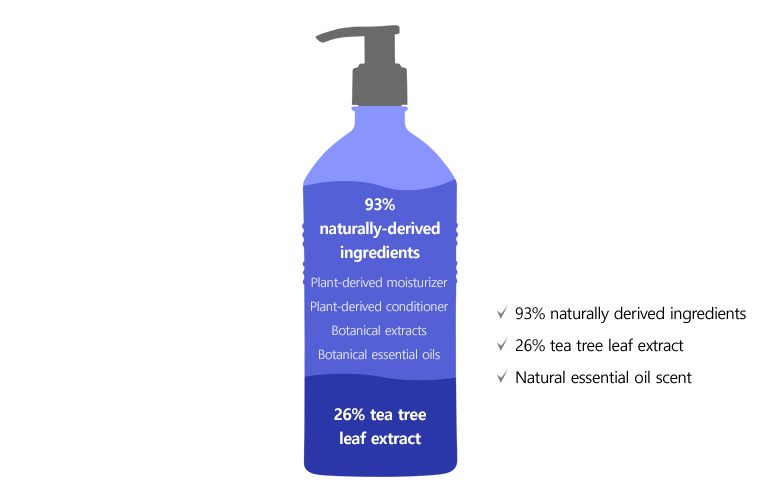 The Tea Tree Purifying Conditioner made up of 93% naturally derived ingredients,  provides comfort for the fatigued scalp and hair through botanical energy obtained from nature.  It also uses a tea tree extract steeped using the decoction extraction method in place of purified water to deliver the active ingredients of tea tree that help control excess sebum directly into the scalp and hair!
HOLISTIC EXTRACTION METHOD™
The apothecary formula that directly delivers the essence of nature
Tea tree complex
Tea tree oil, rich in skin-soothing terpenin-4-ol, and tea tree extract,  steeped via the decoction extraction method, deliver purifying energy directly into the scalp. These provide comfortable and refreshing care even for a scalp suffering from overactive sebum secretion.
Fundamental care for hair Plant-derived ester oil
Ester oil extracted from fatty acids of coconut oil has been used in place of silicon ingredients that block the scalp pores and hair cuticles in order to aid in absorbing nutrients and provide a healthy glow.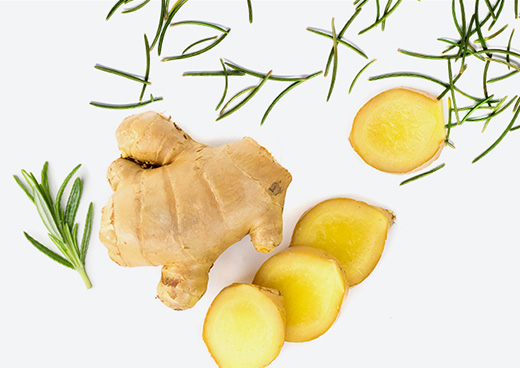 A fresh, cooling sensation for the irritated scalp
As the temperature of the scalp increases, the pores expand and sebum secretion becomes more active, reducing the scalp's elasticity and causing hair to fall out more easily. Mint ingredients, such as peppermint and spearmint, add a cooling sensation on a heated scalp to tighten pores and remove any unpleasantness on the scalp.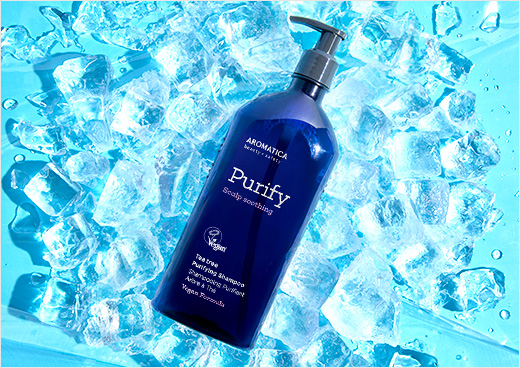 Healthier with everyday use!
Fill your dry hair with moisture and nourishment immediately after shampooing!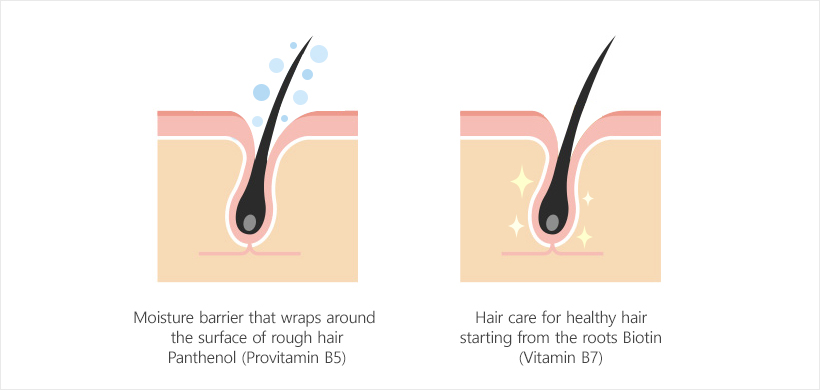 Limited to the characteristics of the ingredients Panthenol, also called Provitamin B5, calms frizzy hair by moisturizing dry and rough cuticles with rich moisture. Biotin, also called Vitamin B7, is a nutrient that makes up the hair and cares for the roots. Experience moisturized and resilient hair with vitamin ingredients specialized for hair health!
Who should use the Tea Tree Purifying Conditioner?
Those in need of a smooth nutrient coating right after shampooing
Those in need of a conditioner that can touch the scalp
Those with scalp and hair that easily become oily and split by afternoon
Those with a sensitive scalp
Those with an itchy and sticky scalp
Those who want a refreshing, cooling conditioner
Those experiencing a bad odor on their scalp even after washing their hair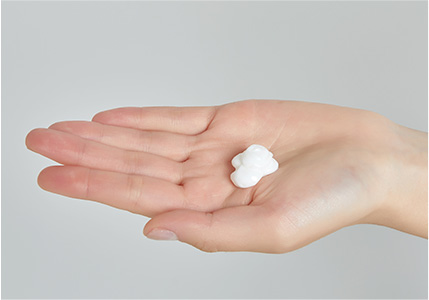 It has a white and soft, cream-type texture. The silicon-free solution does not cover the scalp, and leaves a light, gentle finish without any hair clumping or heaviness.