Matte Chic Lip Lacquer
Want to get perfect long-lasting matte lips without smudging? Etude House Matte Chic Lip Lacquer is the perfect lip product for smooth and vibrant lips with intense color.
Matte smooth lip lacquer
Vibrant pigmented colors
Easy to touch up without smudging
Description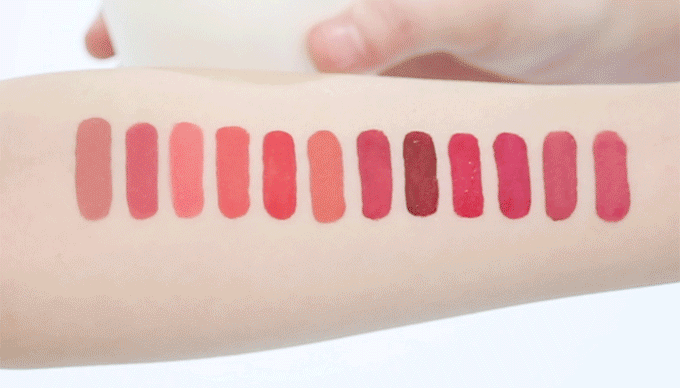 Additional information
| | |
| --- | --- |
| Weight | N/A |
| Color | #BE101, #BR401, #OR201, #OR202, #OR203, #OR204, #PK001, #PK002, #PK003, #PK004, #PP501, #RD301, #RD302, #RD303 |
Reviews (1)
Only logged in customers who have purchased this product may leave a review.
Ingredients
4g - #01 BE101 Peach Beige :ISODODECANE, CYCLOPENTASILOXANE, TRIMETHYLSILOXYSILICATE, SILICA, POLYISOBUTENE, DISTEARDIMONIUM HECTORITE, METHYL HYDROGENATED ROSINATE, SYNTHETIC FLUORPHLOGOPITE, POLYETHYLENE, ACRYLATES/DIMETHICONE COPOLYMER, 1,2-HEXANEDIOL, LAURYL PEG-9 POLYDIMETHYLSILOXYETHYL DIMETHICONE, POLYHYDROXYSTEARIC ACID, BARIUM SULFATE, DIISOSTEARYL MALATE, CETYL PEG/PPG-10/1 DIMETHICONE, PROPYLENE CARBONATE, METHICONE, TRIETHOXYCAPRYLYLSILANE, DEHYDROACETIC ACID, ROSIN, TOCOPHEROL, FRAGRANCE [ /- (MAY CONTAIN) TITANIUM DIOXIDE (CI 77891), YELLOW 5 LAKE (CI 19140), YELLOW 10 LAKE (CI 47005), IRON OXIDES (CI 77491), RED 22 LAKE (CI 45380), RED 6(CI 15850), RED 28 LAKE (CI 45410), RED 7 (CI 15850), RED 33 LAKE (CI 17200), IRON OXIDES (CI 77499), BLUE 1 LAKE (CI 42090)] #02 PK001 Rose Pink :ISODODECANE, CYCLOPENTASILOXANE, TRIMETHYLSILOXYSILICATE, SILICA, POLYISOBUTENE, DISTEARDIMONIUM HECTORITE, METHYL HYDROGENATED ROSINATE, SYNTHETIC FLUORPHLOGOPITE, POLYETHYLENE, ALUMINUM HYDROXIDE, ACRYLATES/DIMETHICONE COPOLYMER, 1,2-HEXANEDIOL, LAURYL PEG-9 POLYDIMETHYLSILOXYETHYL DIMETHICONE, POLYHYDROXYSTEARIC ACID, CETYL PEG/PPG-10/1 DIMETHICONE, PROPYLENE CARBONATE, METHICONE, TRIETHOXYCAPRYLYLSILANE, DEHYDROACETIC ACID, DIISOSTEARYL MALATE, TOCOPHEROL, FRAGRANCE [ /- (MAY CONTAIN) TITANIUM DIOXIDE (CI 77891), YELLOW 5 LAKE (CI 19140), YELLOW 10 LAKE (CI 47005), IRON OXIDES (CI 77491), RED 22 LAKE (CI 45380), RED 6(CI 15850), RED 28 LAKE (CI 45410), RED 7 (CI 15850), RED 33 LAKE (CI 17200), IRON OXIDES (CI 77499), BLUE 1 LAKE (CI 42090)] #03 PK002 Wink Pink :ISODODECANE, CYCLOPENTASILOXANE, TRIMETHYLSILOXYSILICATE, SILICA, POLYISOBUTENE, DISTEARDIMONIUM HECTORITE, METHYL HYDROGENATED ROSINATE, SYNTHETIC FLUORPHLOGOPITE, POLYETHYLENE, ACRYLATES/DIMETHICONE COPOLYMER, 1,2-HEXANEDIOL, LAURYL PEG-9 POLYDIMETHYLSILOXYETHYL DIMETHICONE, POLYHYDROXYSTEARIC ACID, ALUMINUM HYDROXIDE, CETYL PEG/PPG-10/1 DIMETHICONE, PROPYLENE CARBONATE, METHICONE, TRIETHOXYCAPRYLYLSILANE, DEHYDROACETIC ACID, TOCOPHEROL, FRAGRANCE [ /- (MAY CONTAIN) TITANIUM DIOXIDE (CI 77891), YELLOW 5 LAKE (CI 19140), YELLOW 10 LAKE (CI 47005), IRON OXIDES (CI 77491), RED 22 LAKE (CI 45380), RED 6(CI 15850), RED 28 LAKE (CI 45410), RED 7 (CI 15850), RED 33 LAKE (CI 17200), IRON OXIDES (CI 77499), BLUE 1 LAKE (CI 42090)] #04 PK003 YERI Pink :ISODODECANE, CYCLOPENTASILOXANE, TRIMETHYLSILOXYSILICATE, SILICA, POLYISOBUTENE, DISTEARDIMONIUM HECTORITE, METHYL HYDROGENATED ROSINATE, SYNTHETIC FLUORPHLOGOPITE, POLYETHYLENE, ACRYLATES/DIMETHICONE COPOLYMER, ALUMINUM HYDROXIDE, 1,2-HEXANEDIOL, LAURYL PEG-9 POLYDIMETHYLSILOXYETHYL DIMETHICONE, POLYHYDROXYSTEARIC ACID, CETYL PEG/PPG-10/1 DIMETHICONE, PROPYLENE CARBONATE, METHICONE, TRIETHOXYCAPRYLYLSILANE, DEHYDROACETIC ACID, TOCOPHEROL, FRAGRANCE [ /- (MAY CONTAIN) TITANIUM DIOXIDE (CI 77891), YELLOW 5 LAKE (CI 19140), YELLOW 10 LAKE (CI 47005), IRON OXIDES (CI 77491), RED 22 LAKE (CI 45380), RED 6(CI 15850), RED 28 LAKE (CI 45410), RED 7 (CI 15850), RED 33 LAKE (CI 17200), IRON OXIDES (CI 77499), BLUE 1 LAKE (CI 42090)] #05 OR201 JOY Grapefruit :ISODODECANE, CYCLOPENTASILOXANE, TRIMETHYLSILOXYSILICATE, SILICA, POLYISOBUTENE, DISTEARDIMONIUM HECTORITE, METHYL HYDROGENATED ROSINATE, SYNTHETIC FLUORPHLOGOPITE, POLYETHYLENE, ALUMINUM HYDROXIDE, ACRYLATES/DIMETHICONE COPOLYMER, 1,2-HEXANEDIOL, LAURYL PEG-9 POLYDIMETHYLSILOXYETHYL DIMETHICONE, POLYHYDROXYSTEARIC ACID, CETYL PEG/PPG-10/1 DIMETHICONE, PROPYLENE CARBONATE, METHICONE, TRIETHOXYCAPRYLYLSILANE, DEHYDROACETIC ACID, TOCOPHEROL, FRAGRANCE [ /- (MAY CONTAIN) TITANIUM DIOXIDE (CI 77891), YELLOW 5 LAKE (CI 19140), YELLOW 10 LAKE (CI 47005), IRON OXIDES (CI 77491), RED 22 LAKE (CI 45380), RED 6(CI 15850), RED 28 LAKE (CI 45410), RED 7 (CI 15850), RED 33 LAKE (CI 17200), IRON OXIDES (CI 77499), BLUE 1 LAKE (CI 42090)] #06 OR202 Too Much Orange :ISODODECANE, CYCLOPENTASILOXANE, TRIMETHYLSILOXYSILICATE, SILICA, POLYISOBUTENE, DISTEARDIMONIUM HECTORITE, METHYL HYDROGENATED ROSINATE, SYNTHETIC FLUORPHLOGOPITE, POLYETHYLENE, ACRYLATES/DIMETHICONE COPOLYMER, ALUMINUM HYDROXIDE, 1,2-HEXANEDIOL, LAURYL PEG-9 POLYDIMETHYLSILOXYETHYL DIMETHICONE, POLYHYDROXYSTEARIC ACID, CETYL PEG/PPG-10/1 DIMETHICONE, PROPYLENE CARBONATE, METHICONE, TRIETHOXYCAPRYLYLSILANE, DEHYDROACETIC ACID, TOCOPHEROL, FRAGRANCE [ /- (MAY CONTAIN) TITANIUM DIOXIDE (CI 77891), YELLOW 5 LAKE (CI 19140), YELLOW 10 LAKE (CI 47005), IRON OXIDES (CI 77491), RED 22 LAKE (CI 45380), RED 6(CI 15850), RED 28 LAKE (CI 45410), RED 7 (CI 15850), RED 33 LAKE (CI 17200), IRON OXIDES (CI 77499), BLUE 1 LAKE (CI 42090)] #07 RD301 Ready for Red :ISODODECANE, CYCLOPENTASILOXANE, TRIMETHYLSILOXYSILICATE, SILICA, POLYISOBUTENE, DISTEARDIMONIUM HECTORITE, METHYL HYDROGENATED ROSINATE, BARIUM SULFATE, SYNTHETIC FLUORPHLOGOPITE, POLYETHYLENE, ACRYLATES/DIMETHICONE COPOLYMER, 1,2-HEXANEDIOL, LAURYL PEG-9 POLYDIMETHYLSILOXYETHYL DIMETHICONE, POLYHYDROXYSTEARIC ACID, CETYL PEG/PPG-10/1 DIMETHICONE, PROPYLENE CARBONATE, METHICONE, TRIETHOXYCAPRYLYLSILANE, ROSIN, DEHYDROACETIC ACID, TOCOPHEROL, FRAGRANCE [ /- (MAY CONTAIN) TITANIUM DIOXIDE (CI 77891), YELLOW 5 LAKE (CI 19140), YELLOW 10 LAKE (CI 47005), IRON OXIDES (CI 77491), RED 22 LAKE (CI 45380), RED 6(CI 15850), RED 28 LAKE (CI 45410), RED 7 (CI 15850), RED 33 LAKE (CI 17200), IRON OXIDES (CI 77499), BLUE 1 LAKE (CI 42090)] #08 RD302 SEULGI Burgundy :ISODODECANE, CYCLOPENTASILOXANE, TRIMETHYLSILOXYSILICATE, SILICA, POLYISOBUTENE, BARIUM SULFATE, DISTEARDIMONIUM HECTORITE, METHYL HYDROGENATED ROSINATE, SYNTHETIC FLUORPHLOGOPITE, POLYETHYLENE, ACRYLATES/DIMETHICONE COPOLYMER, 1,2-HEXANEDIOL, LAURYL PEG-9 POLYDIMETHYLSILOXYETHYL DIMETHICONE, POLYHYDROXYSTEARIC ACID, CETYL PEG/PPG-10/1 DIMETHICONE, PROPYLENE CARBONATE, METHICONE, ROSIN, TRIETHOXYCAPRYLYLSILANE, DEHYDROACETIC ACID, TOCOPHEROL, FRAGRANCE [ /- (MAY CONTAIN) TITANIUM DIOXIDE (CI 77891), YELLOW 5 LAKE (CI 19140), YELLOW 10 LAKE (CI 47005), IRON OXIDES (CI 77491), RED 22 LAKE (CI 45380), RED 6(CI 15850), RED 28 LAKE (CI 45410), RED 7 (CI 15850), RED 33 LAKE (CI 17200), IRON OXIDES (CI 77499), BLUE 1 LAKE (CI 42090)] #09 RD303 IRENE Red :ISODODECANE, CYCLOPENTASILOXANE, TRIMETHYLSILOXYSILICATE, SILICA, POLYISOBUTENE, BARIUM SULFATE, DISTEARDIMONIUM HECTORITE, METHYL HYDROGENATED ROSINATE, SYNTHETIC FLUORPHLOGOPITE, POLYETHYLENE, ACRYLATES/DIMETHICONE COPOLYMER, 1,2-HEXANEDIOL, LAURYL PEG-9 POLYDIMETHYLSILOXYETHYL DIMETHICONE, POLYHYDROXYSTEARIC ACID, CETYL PEG/PPG-10/1 DIMETHICONE, PROPYLENE CARBONATE, METHICONE, ROSIN, TRIETHOXYCAPRYLYLSILANE, DEHYDROACETIC ACID, TOCOPHEROL, FRAGRANCE [ /- (MAY CONTAIN) TITANIUM DIOXIDE (CI 77891), YELLOW 5 LAKE (CI 19140), YELLOW 10 LAKE (CI 47005), IRON OXIDES (CI 77491), RED 22 LAKE (CI 45380), RED 6(CI 15850), RED 28 LAKE (CI 45410), RED 7 (CI 15850), RED 33 LAKE (CI 17200), IRON OXIDES (CI 77499), BLUE 1 LAKE (CI 42090)] #10 PP501 Very Berry Plum :ISODODECANE, CYCLOPENTASILOXANE, TRIMETHYLSILOXYSILICATE, SILICA, POLYISOBUTENE, DISTEARDIMONIUM HECTORITE, METHYL HYDROGENATED ROSINATE, SYNTHETIC FLUORPHLOGOPITE, POLYETHYLENE, ALUMINUM HYDROXIDE, ACRYLATES/DIMETHICONE COPOLYMER, 1,2-HEXANEDIOL, LAURYL PEG-9 POLYDIMETHYLSILOXYETHYL DIMETHICONE, POLYHYDROXYSTEARIC ACID, CETYL PEG/PPG-10/1 DIMETHICONE, PROPYLENE CARBONATE, METHICONE, TRIETHOXYCAPRYLYLSILANE, DEHYDROACETIC ACID, POLYGLYCERYL-2 TRIISOSTEARATE, TOCOPHEROL, FRAGRANCE [ /- (MAY CONTAIN) TITANIUM DIOXIDE (CI 77891), YELLOW 5 LAKE (CI 19140), YELLOW 10 LAKE (CI 47005), IRON OXIDES (CI 77491), RED 22 LAKE (CI 45380), RED 6(CI 15850), RED 28 LAKE (CI 45410), RED 7 (CI 15850), RED 33 LAKE (CI 17200), IRON OXIDES (CI 77499), BLUE 1 LAKE (CI 42090)] #11 BR401 WENDY Brown :ISODODECANE, CYCLOPENTASILOXANE, TRIMETHYLSILOXYSILICATE, SILICA, POLYISOBUTENE, DISTEARDIMONIUM HECTORITE, METHYL HYDROGENATED ROSINATE, SYNTHETIC FLUORPHLOGOPITE, POLYETHYLENE, ALUMINUM HYDROXIDE, ACRYLATES/DIMETHICONE COPOLYMER, 1,2-HEXANEDIOL, LAURYL PEG-9 POLYDIMETHYLSILOXYETHYL DIMETHICONE, POLYHYDROXYSTEARIC ACID, CETYL PEG/PPG-10/1 DIMETHICONE, PROPYLENE CARBONATE, METHICONE, TRIETHOXYCAPRYLYLSILANE, DEHYDROACETIC ACID, TOCOPHEROL, FRAGRANCE [ /- (MAY CONTAIN) TITANIUM DIOXIDE (CI 77891), YELLOW 5 LAKE (CI 19140), YELLOW 10 LAKE (CI 47005), IRON OXIDES (CI 77491), RED 22 LAKE (CI 45380), RED 6(CI 15850), RED 28 LAKE (CI 45410), RED 7 (CI 15850), RED 33 LAKE (CI 17200), IRON OXIDES (CI 77499), BLUE 1 LAKE (CI 42090)] #12 PK004 Romance Rose :ISODODECANE, CYCLOPENTASILOXANE, TRIMETHYLSILOXYSILICATE, SILICA, POLYISOBUTENE, DISTEARDIMONIUM HECTORITE, METHYL HYDROGENATED ROSINATE, SYNTHETIC FLUORPHLOGOPITE, POLYETHYLENE, ALUMINUM HYDROXIDE, ACRYLATES/DIMETHICONE COPOLYMER, 1,2-HEXANEDIOL, LAURYL PEG-9 POLYDIMETHYLSILOXYETHYL DIMETHICONE, POLYHYDROXYSTEARIC ACID, CETYL PEG/PPG-10/1 DIMETHICONE, PROPYLENE CARBONATE, METHICONE, TRIETHOXYCAPRYLYLSILANE, DEHYDROACETIC ACID, TOCOPHEROL, FRAGRANCE [ /- (MAY CONTAIN) TITANIUM DIOXIDE (CI 77891), YELLOW 5 LAKE (CI 19140), YELLOW 10 LAKE (CI 47005), IRON OXIDES (CI 77491), RED 22 LAKE (CI 45380), RED 6(CI 15850), RED 28 LAKE (CI 45410), RED 7 (CI 15850), RED 33 LAKE (CI 17200), IRON OXIDES (CI 77499), BLUE 1 LAKE (CI 42090)] #Top Coat :DIMETHICONE, CETYL PEG/PPG-10/1 DIMETHICONE, PENTAERYTHRITYL TETRA-DI-T-BUTYL HYDROXYHYDROCINNAMATE, MICROCRYSTALLINE WAX / CERA MICROCRISTALLINA / CIRE MICROCRISTALLINE, PARAFFIN #OR203 Vita Energy :ISODODECANE, CYCLOPENTASILOXANE, TRIMETHYLSILOXYSILICATE, SILICA, POLYISOBUTENE, DISTEARDIMONIUM HECTORITE, METHYL HYDROGENATED ROSINATE, SYNTHETIC FLUORPHLOGOPITE, POLYETHYLENE, ALUMINUM HYDROXIDE, ACRYLATES/DIMETHICONE COPOLYMER, 1,2-HEXANEDIOL, LAURYL PEG-9 POLYDIMETHYLSILOXYETHYL DIMETHICONE, POLYHYDROXYSTEARIC ACID, CETYL PEG/PPG-10/1 DIMETHICONE, PROPYLENE CARBONATE, METHICONE, TRIETHOXYCAPRYLYLSILANE, DEHYDROACETIC ACID, FRAGRANCE / PARFUM, TOCOPHEROL, LIMONENE [ /- (MAY CONTAIN) RED 22 LAKE (CI 45380), RED 6(CI 15850), RED 7 (CI 15850), YELLOW 5 LAKE (CI 19140), YELLOW 6 LAKE (CI 15985), YELLOW 10 LAKE (CI 47005)] #OR204 Super Tomato :ISODODECANE, CYCLOPENTASILOXANE, TRIMETHYLSILOXYSILICATE, SILICA, POLYISOBUTENE, DISTEARDIMONIUM HECTORITE, METHYL HYDROGENATED ROSINATE, SYNTHETIC FLUORPHLOGOPITE, POLYETHYLENE, BARIUM SULFATE, ACRYLATES/DIMETHICONE COPOLYMER, 1,2-HEXANEDIOL, LAURYL PEG-9 POLYDIMETHYLSILOXYETHYL DIMETHICONE, POLYHYDROXYSTEARIC ACID, CETYL PEG/PPG-10/1 DIMETHICONE, PROPYLENE CARBONATE, METHICONE, TRIETHOXYCAPRYLYLSILANE, ROSIN / COLOPHONIUM / COLOPHANE, DEHYDROACETIC ACID, FRAGRANCE / PARFUM, TOCOPHEROL, LIMONENE [ /- (MAY CONTAIN) RED 22 LAKE (CI 45380), RED 6(CI 15850), RED 7 (CI 15850), YELLOW 5 LAKE (CI 19140), YELLOW 6 LAKE (CI 15985), YELLOW 10 LAKE (CI 47005)]
Related products